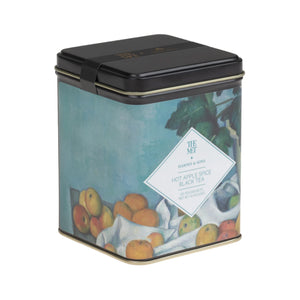 Harney and Sons Tea Hong Kong
[Still Good] Hot Appice Spice Black Tea, Tin of 20 Sachets
Regular price
$58.00
Sale price
$108.00
Unit price
per
Similar to our most popular blend, Hot Cinnamon Spice, this rendition features a focus on apples. The duality of sweetness and spice makes for an irresistible cup--as pleasant as a mural in a museum. Please enjoy this enchanted blend, which was inspired by The Metropolitan Museum of Art's relaunching of the British Art galleries.
Ingredients: black tea, orange peel, cinnamon flavor, ground cinnamon, apple pieces, apple flavor, cinnamon pieces, ground cloves. Contains natural flavors.
Certifications:

Best before date: 1 Apr, 2023
🌏Does your tea have an expiration date?
No, our tea does not have an expiration date. We do put lot numbers on our tea, which lets us know when it was produced. We recommend the product be consumed within two years of that date, simply to ensure the best flavour. Of course, we guarantee all of our products, and if you are unhappy with a Harney & Sons product, please let us know.
---